Hummmm,
This story speaks for itself ?
Will not see this on the nightly news ......................................
The martial law lock down of Boston and surrounding areas has a cost of $333 million per day,
But Dunkin' Donuts

can still operate, because police have requested that they stay open during the city wide shut down.
By
JG Vibes
Intellihub.com
April 19, 2013
It was reported by Bloomberg Business that
it would cost $333 million dollars per day to shut down the city of Boston
. The loss of business from this shut down could put many struggling businesses under or put them at risk of being short on their rent.
To add insult to injury, the police have once again proven the age old cliche about cops spending their days arresting potheads and eating donuts.
Even though Boston is under a strict lockdown during the
manhunt for bombing suspect Dzhokhar Tsarnaev
, Massachusetts-based
Dunkin' Donuts remains open to serve first responders
,
BuzzFeed
reports.
A Newton store manager told BuzzFeed, "There was an automated message going around telling businesses to close, but because we're Dunkin' Donuts, we called the police department and they said we didn't have to."
"
At the direction of authorities,
select Dunkin' Donuts restaurants in the Boston area are open to take care of needs of law enforcement and first responders,"
Are you kidding me?
spokeswoman Lindsay Harrington
told Boston.com.
"We are encouraging our guests to stay home today and abide by the lockdown, per the Governor's recommendation."
(
New England patriots? are they really patriots, or is it only lip service)
The problem with this situation really doesn't have as much to do with cops and donuts as it does the arbitrary orders that are being passed down by those in authority.
Only those who can directly serve the
kings guards
are allowed to operate their businesses,
or move about freely, everyone else is forced to stay indoors,
have their houses searched by military agents and be subject to a total police state.
I am having trouble to, not add a caption to these pictures :) Like ?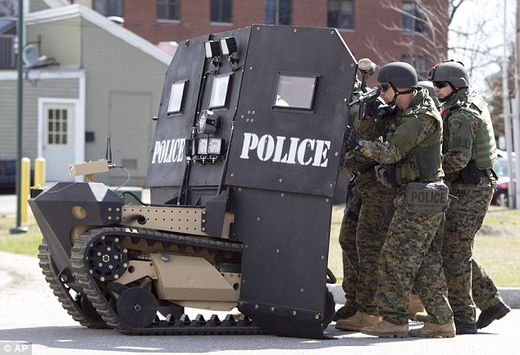 Additional sources:
^
http://www.businessinsider.com/boston-dunkin-donuts-stays-open-2013-4#ixzz2Qx3SAP00